I

TALIA
Segments of precious woods, cocobolo and movingui; with their hundreds of shades
The

Cocobolo


is an exotic wood
of Central America,
rare and precious,
reddish or orange
brown ,
with irregular
dark streaks .
Hard and durable,
rich of natural oils.

The Movingui
grows in the
evergreen wet
forests of
West Africa,
yellow to orangish
brown ,
often used in
inlay works
due to its color;
durable,
porous grain.
The Italia pen is hand made with segmented precious woods, cocobolo and movingui.
Being hand-made, with natural materials, each pen is different from all the orthers; each one is an unique piece, with different streaks and veins and shades.


Available as fountain pen or roller. The fountain pen features a bicolor steel nib, cartridge/converter filling system. Converter included.
The packaging is a raw wood box, inspired by a typical crate of apples.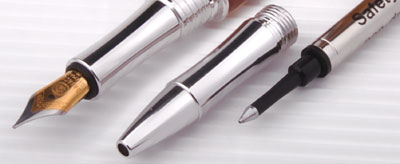 You can buy an extra roller grip separately. Exhanging is very easy: just unscrew the fountain pen's grip and substitute with the roller's one, for experiencing all the writing styles.
Two pens in one!