Hand made pens with Eucalyptus wood


E

UCALYPTUS
The

Eucalyptus


is an evergreen tree from Oceania
where it can grow until 60 meters tall.
Its leaves are rich of balsamic active
ingredients used for infusions and medicals.
The wood is firm and strong, with streaks
of different shades and light.
Fountain pens and rollerballs, hand made with eucalyptus wood.
Unique and unrepeatable, each Storia pen is hand turned from a natural wood piece, with is cut and polished to enhance its uniqueness: for the streaks' design or for the color shades.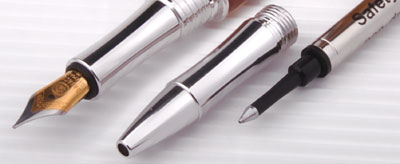 The Eucalyptus pens are available as fountain pen or roller.
Bicolor steel nib, cartridge/converter filling system. Converter included.
You can buy an extra roller grip separately;
(at super-rebated price!)
easy to exhange, for experiencing all the writing devices.
Two pens in one!


The pen comes in a basic cardboard box. The wood box where it used to be sold is no longer available.
The small bags with their shavings of wood, that were used to be attached to the pens, are not available either; only for very few pieces, and not for all the wood types.