Hand made pens, in Ebony Macassar


E

BONY

M

ACASSAR
Ebony is a very precious wood,
hard, black and finely-textured.
It's dense enough to sink in water.
The most precious species come
from Africa (Madagascar)
and south of Asia (India).
It's used for sculptures, luxury cabinets,
musical instruments and chess sets.
Fountain pen or roller, hand craftedin Italy with Ebony Macassar, that is black with dark reddish-brown veins; hand turned and refined.
Rhodium trims, cartridge/converter filled (included), bicolor steel nib.
Length of the pen, closed: approx mm. 130 - it may change from pen to pen, due to the hand crafting.

Available as fountain pen or roller.
You can buy an extra roller grip separately; easy to exhange, for experiencing all the writing devices.
Two pens in one!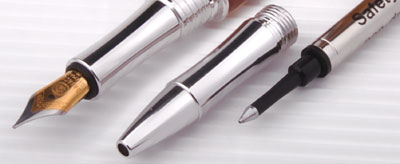 The pen comes in a basic cardboard box. The wood box where it used to be sold is no longer available.
The small bags with their shavings of wood, that were used to be attached to the pens, are not available either; only for very few pieces, and not for all the wood types.