Hand made cocobolo wood: each piece is unique


C

OCOBOLO
The

Cocobolo


is an exotic wood
of Central America,
rare and precious,
reddish or orange
brown ,
with irregular
dark streaks .
Hard and durable,
rich of natural oils,
it's specially used
in knifes' and
weapons' grips
or in Musical
instruments .
Fountain pens and rollerballs, hand made with cocobolo wood.
Unique and unrepeatable, each Storia pen is hand turned from a natural wood piece, with is cut and polished to enhance its uniqueness: for the streaks' design or for the color shades.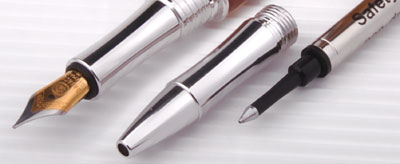 The Cocobolo pens are available as fountain pen or roller.
Bicolor steel nib, cartridge/converter filling system. Converter included.
You can buy an extra roller grip separately; easy to exhange, for experiencing all the writing devices.
Two pens in one!
Still made with Cocobolo wood, this is a prototype made in a different model: longer, with a rounded end and without the metal bottom.
Fountain pen only: this pen (Large Cocobolo) can't hold the refill spring inside, therefore you can't change the fountain pen in roller substituting the grip.


The pen comes in a basic cardboard box. The wood box where it used to be sold is no longer available.
The small bags with their shavings of wood, that were used to be attached to the pens, are not available either; only for very few pieces, and not for all the wood types.