Hand-made pen, with Norvegian birch woods


B

IRCH
The Norvegian Birch,
that grows in all North Europe,
is a very finely-textured wood,
light color, with a silk effect,
quite firm and elastic,
easy to bend.
Fountain pen or roller, hand crafted with Norvegian Birch or Warty Birch woods, hand turned and refined.
The final result, therefore, is an always unique piece, because the wood veins are always different - and quite visible, in the birch light wood - and each pen features different shades and decoration.
Rhodium trims, cartridge/converter filled (included), bicolor steel nib. (only M)
Norvegian Birch:
Warty Birch:
The pens made with Betula Pendula (scientific name of the Wardy Birch) are more variegated, crammed with viewable knots and veins.
Length of the pen, closed: approx mm. 130 - it may change from pen to pen, due to the hand crafting.
Birch pens are available as fountain pen and roller.
You can also buy an extra roller grip separately; easy to exhange, for experiencing all the writing devices. (Extra-special price for it too!)
Two pens in one!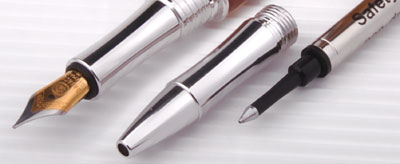 The pen comes in a basic cardboard box. The wood box where it used to be sold is no longer available.
The small bags with their shavings of wood, that were used to be attached to the pens, are not available either; only for very few pieces, and not for all the wood types.