M

ODELLO

T

Model T in new translucent colors or as demonstrator version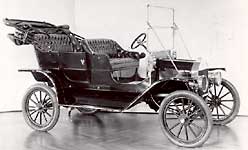 T-FLEX
new titanium nib
unique size
- one fits all -This pen is inspired by the famous car introduced by Henry Ford in 1908, the so called "T- Model", born from the new idea to build simple and low cost cars, addressed to the mass market of American middle class families.
The reason of Ford's success was in reducing bulk costs: the mass production and the introduction of assembly lines.


Limited Edition
Nuda: 351 fountain pens + 351 speedball
Sahara: 351 fountain pens + 351 speedball
Ambrosia: 193 fountain pens + 193 speedball
The pen
The T Model fountain pen, with its dynamic and slender design, has been conceived following the same principles that inspired the historical model.
Black only, at beginning; but now it has been realized also as Limited Edition, in three different materials and finishings.
They feature the same titanium nib, available in one size T-Flex only, that gives a great performance in terms of accuracy, flexibility and lightness, and allows a perfect writing and meets whatever a pressure.
Model T Sahara, in amber sandy resin, with palladium plated finish and T-Flex nib, and mother-of-pearl small ball in its clip (sold out):

Model T Ambrosia, in marbled celluloid and satin golden finish. Gold plated titanium T-Flex nib, and a small red cornelian ball in its clip (sold out).

Model T Nuda, transparent with satin golden finish:

All them feature a triple filling system: direct, cartridges, converter.
The package includes an eyedropper.

Here is a short video with the three new Model T