A

MELIA

E

ARHART
The first woman in the world to fly across the Atlantic Ocean, in 1928
Amelia Earhart, charming aviation pioneer, in 1928 was the first woman in the world to fly across the Atlantic Ocean, in 20 hours and 40 minutes.
Beautiful and brave, she spent her short life engaging extraordinary flights, among which the transatlantic solo flight in 1932, and in her commitment about female emancipation. She was missing in mistery circumstances in 1937, when she was only 40, during her attempt to the world flight.
The Amelia Earhart pen
Krone applies Amelia Earhart's style in this Limited Edition pen.



Of course it's blue, in celluloid, with three-dimensional slate blue and black herringbone design.
All trims are in sterling silver.
The clip recalls an airplane wing, and the silver central band is engraved with Amelia's signature.


One of the favourite words of the aviator: "Courage is the price that life exacts for granting peace" is engraved on the silver bottom.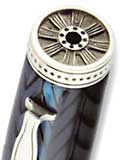 Limited Edition
388 pieces
At the cap top, her airplane's rotor has been reproduced, and a small piece of the wing's fabric is included.
That way, all the pen may be considered as the fuselage of her Lockheed Vega 5B, inseparable companion of her raids all over the world: from Honolulu to Oakland, from Los Angeles to Mexico City to Newark (New Jersey), flying alone throught Atlantic and Pacific Ocean.
It's a large size pen, (140 mm. closed, 155 mm. opened with cap posted back).
Piston filled, 18 Kt gold nib, F, M, B.
The vintage-style box, made in leather, conveys all the glamour of those days.