A

UDUBON

Hand painted mother-of-pearl and silver fountain pen, inspired by Audubon's drawings
Who was Audubon
John James Audubon was a French-American ornithologist, naturalist, hunter, and painter. He painted, catalogued, and described the birds of North America in a form far superior to what had gone before.
He lived in early XIX Century, and is the author of "Birds of America", a monumental work of 435 hand-colored, life-size prints of 497 bird species.
Krone celebrates John James Audubon and his passion for birds with a striking writing instrument.
The Audubon pen


The slightly bulged shaped mother of pearl barrel is artfully painted with an array of Audubon's birds in a tranquil outdoor setting. Hand painted in great detail by Russian miniature painters. The mother of pearl background give a luminous look and a three-dimensional effect.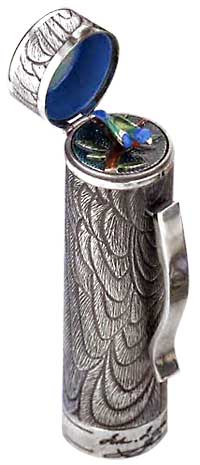 The sterling silver cap and blind cap are etched in relief, depicting highly detailed bird feathers, which so much fascinated this adventurous painter.
Hidden atop the cap is a special flip-top which opens to reveal a miniature hand painted three-dimensional; a painted Bunting under a bright blue sky.Il cappuccio e la parte terminale della penna sono invece in argento massiccio 925 inciso in rilievo con un disegno minuzioso di piumaggio complesso, che tanto affascinava questo avventuroso pittore.
It's not a musical box, and it doesn't move.


Limited Edition
188 Standard fountain pens
28 roller
18 Magnum fountain pens
The fountain pen has been realized in two versions:Standard and Magnum.
Here we're describing the Standard version.
The Magnum version is different in size, and painted with a different subject; its cap is whole mother-of pearl (no silver) and there isn't any bird in the cap top.
The cap band, in sterling silver, reproduces Audubon signature.
Piston filled, 18 Kt gold nib, F, M, B.
The products come in a lacquered wood box with a portrait of John James Audubon.