M

AR

T

IRRENO
Tyrrhenian Sea, Limited Edition pens, as green as its coasts.


Limited Edition
480 fountain pens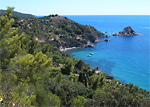 Aurora's trip in the Italian seas is going on.
Here is Mar Tirreno, (Tyrrhenian Sea), which whashes the western coast of Italy, from Tuscany to Sicily.
Several isles and archipelagos are located here: Elba, Pianosa, Montecristo, Giglio and Giannutri in Tuscany, Ponza in the central Italy, Maddalena and Caprera in Sardinia, up to Capri, Ischia, Procida, Ustica and Aeolian archipelago in the south.
Mar Tirreno - the pen
Absolutely green, like the luxuriant native vegetation of its coast.
It's made in marbled auroloid, in the shades of green, with rhodium plated trims.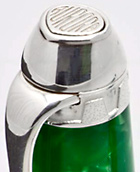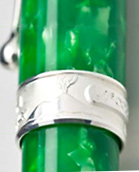 The cap rings have been decorated with elements of Tyrrhenian landscape.
On the left, the clip ring, with Sardinia's Nuraghi: the largest megalitic monuments in Europe.
On the right, the central band depicts the Vesuvio's outline and Capri's Faraglioni (stacks), plus the name of the pen.
The cap top is engraved with the Aurora logo, with the same shape.



The barrel bottom ring, instead, is decorated with flower designs taken from Etruscan amphoras.

The Tyrrhenian Sea, in fact, took its name from Tyrrhenoi people (Greek name for the Etruscans), which from VIII to III century B.C. settled in western Italy, from Liguria in the north to Naples in the south.


The fountain pen is piston filled, with an ink window, and features the classic Aurora's 18 Kt white gold nib, available in EF, F, M, B.