| | | |
| --- | --- | --- |
| MAR ADRIATICO | Mar Adriatico, Limited Edition in green-blue translucent resin | |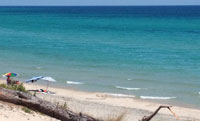 Limited Edition
480 fountain pens
200 rollers
Aurora's trip in the Italian seas is going on.
Here is the Adriatic Sea, separating the Italian peninsula from the Balkan peninsula, touching Italy, Slovenia, Croatia, Bosnia, Montenegro and Albania.
Its length is approx 800 Km, and its average width is 150 Km. In the northern part it doesn't reach the depth of 300 mt, and in the south its max depth is 1200.
Mar Adriatico - the pen
Turquoise, like the sea that gently mets from light blue to green, to the deep blue of the horizon.
Made in translucent marbled auroloid in blue-green tones, with rhodium plated finish.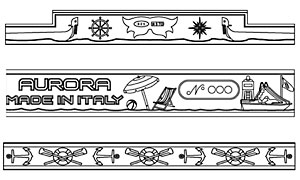 The clip ring on the cap is decorated with designs of gondolas, the symbol of Venice, the jewel of Adriatic Sea due to its history and beauty.
The central ring of the cap is decorated with beach umbrellas, beach chairs and paddle boats, to remind the large sand beaches of the riviera.
At the bottom of the barrel, there is a small ring with anchors and liferings decoration , emblems of nautical word.
The pen is packed in an elegant silver box, black lined.
The fountain pen comes with a free ink bottle.